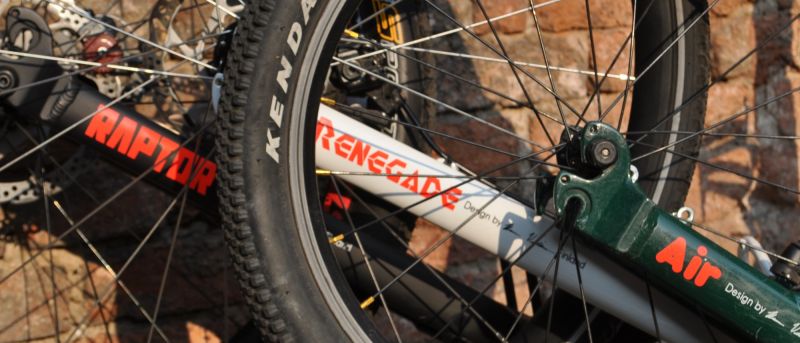 Premium bikes on Kickbike frames
Kickbike RaceMAX Renegade - 28x28
Prototype of footbike gravel machine on alu frame RaceMAX. Wider tires - higher comfort, higher footboard - better move through terrain sectors. Together with great frame geometry and low weight, here is no choice to stay at coutch. The price starts at 730€.
Kickbike Cross 29er Raptor - 26x26
Actually nothing extra. Classic 29er with smaller front wheel for better handling, lower footboard and more fun. Carbon fork on basic model with hydraulic Shimano or mechanic Avid brakes. Weared to Continental RaceKing. The price from 850€.
Kickbike CrossMAX Air - 26x20
Verified part of our terain footbike offer. This lighter brother of CrossFIX attack 7kg of weight. You can definitely recognized it in terain. Front tubeless wheel, carbon fork and carbon bars from Trigon, front hydraulic brake Shimano, rear V-brake Shimano Deore is sufficient. The price is from 1230€, depends on specification.
All of our offer you can test in our shop.