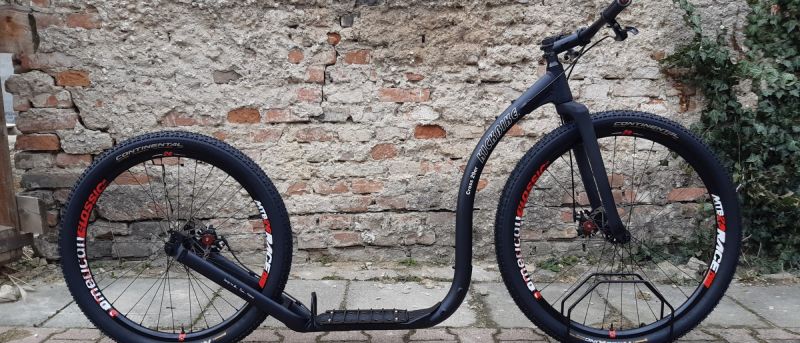 Offroads everywhere
Kickbike CrossMAX models happened the cornersones and the frames CrossMAX backbones of favorites Airs and Hellcats. Then comes Doxtor, with their positives and negatives, still evolving Kostka models, eventual Cane from Morxes. Yedoo offers Trexx, but we will wait for disc brakes brother.
Wheel sizes on models are different and sometimes is possible to assembly on the same frame more wheels sizes. But everytime is good to know why and how it change drive abilities. We know it.
Footbike data
Kickbike
CrossFIX
Kickbike
Air
Kickbike
Hellcat
Doxtor
F192
Yedoo
Trexx
frame
material
alu
alu
alu
alu
alu
wheels
27,5x20
26x20
29x26
29x26
26x20
weight
9,7 kg
3,3 kg
2,5 kg
1,8 kg
ground
37 mm
35 mm
35 mm
35 mm
footboard height
75 mm
63 mm
80 mm
65 mm
footboard
115 mm
95/110 mm
93 mm
80 mm
footboard length
370 mm
370 mm
370 mm
370 mm
kicker
space
685 mm
660 mm
690 mm
680 mm
headset
semiintegr.
1 1/8"
semiintegr.
1 1/8"
tapered
tapered
semiintegr.
1 1/8"
úhel vidlice
brakes
disc
brakes
disc brakes
V-brake
disc
brakes
disc
brakes
V-brake
rear wheel
axle
RU
RU
RU, 9mm osa
RU, 9mm osa
RU
wheels
posibilities
27,5x20,
26x20
27,5x20,
26x20
29x26, 27,5x26, 26x26
29x26, 27,5x26, 26x26
27,5x20,
26x20
frame price
7 000 Kč
7 000 Kč
8 900 Kč
6 500 Kč
footbike price
13 900 Kč
od 32 000 Kč
od 19 900 Kč
od 22 000 Kč
od 13 190 Kč
Footbikes
Kickbike CrossFIX
Basic type for offroad without the necessary adjustments. New model with front 27,5" wheel instead 26". Alu fork, mechanic disc brakes Shimano. Cheap, but functional equipment.
Kickbike Air
Our premium footbike. Playful, light and not only for offroad. Crowned in 1000miles race and Czech cross footbike cup. Offroad footbike under 7kg is not problem.
Kickbike Hellcat
In box version with carbon fork and hydraulic disc brakes. What can you have more? Our custom ;) Big offroad footbike under 8kg is not only a dream. Front wheelsize posibilities, 26x26 then as a Raptor.
Doxtor F192
Mushing indestructible legend. But short and for flat fast parts is not space.
footboard surface on snow and mud

rigidity

durability

craftmanship
small place for kicker

long fork
Yedoo Alloy Trexx
You can play big theatre with small joker. Just a few adjustments and you have the cheapest offroad machine. We are waiting for disc brakes brother.