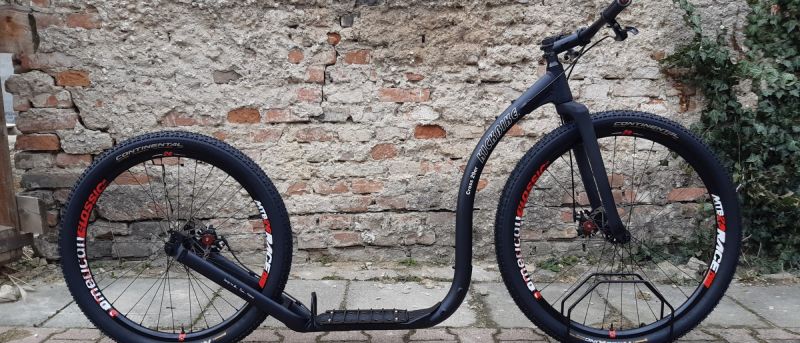 Offroads everywhere
We are a bit off in the nomenclature here, but the origin of the name of this category explains everything. The Kickbike CrossMAX models became the cornerstone and CrossMAX frames the backbone of the popular Airs and 29ers (twenty-niners). There's an ever-changing assortment of Kostka. The original steel Zenisek surprises with its rideability at a fairly high frame weight. And Yedoo already offers a Trexx Disc.
Wheel sizes vary between models and different wheel sizes can be used on the same footbike. It is always good to know why and how it will affect the rideability. We know.
Even our test fleet of cross scooters has most of the selected pieces.
Pluses and minuses are subjective and in terms of use without a dog.
Footbike Data
Kickbike
CrossFIX
Kickbike
CrossMAX Air
Kickbike
Cross29er Hellcat
Ženíšek 29x27,5
Yedoo
Trexx disc
frame
alu
alu
alu
Cr-Mo
alu
wheel size
27,5x20
26x20
29x26
29x27,5
26x20
frame weight
2,9 kg
2,9 kg
3,2 kg
4,6 kg
clearance
83 / 77 mm
83 / 77 mm
80 / 75 mm
70 mm
75 / 60 mm
footboard height
115 mm
115 mm
120 / 115 mm
100 mm
103 / 93 mm
footboard width
115 mm
115 mm
115 mm
130 mm
100 / 110 mm
minimal
bar height
745 mm
745 mm
745 mm
770 mm
730 mm
footboard length
380 mm
380 mm
380 mm
400 mm
400 mm
space
for kicker
670 mm
670 mm
710 mm
680 mm
660 mm
headset
semiintegral
1 1/8"
semiintegral
1 1/8"
integral
tapered
semiintegral
1 1/8"
semiintegral
1 1/8"
brakes
disc
mechanical
disc
hydraulic
disc
hydraulic
disc
hydraulic
disc
mechanic
axis
rear wheel
RU
RU
RU, 9mm osa
15mm osa
RU
wheel possibility
27,5x20,
26x20
27,5x20,
26x20
29x26, 27,5x26, 26x26
29x27,5
29x26
27,5x20,
26x20
Single footbikes
Kickbike CrossFIX
Basic model for the field without any modifications. Newer version with 27,5" front wheel instead of 26". Aluminum fork, Shimano mechanical disc brakes. Cheap but still very functional setup.
geometry
playful
weight
fenders included
Kickbike CrossMAX Air
Our premium footbike. Playful, light and not only for off-road. Proven success in 1000miles and Czech Cross Footbike Cup. Under 7kg is no longer a problem.
Kickbike Cross 29er Hellcat
As a production bike it is already equipped with carbon fork and hydraulic disc brakes. What more could you ask for? Our Hellcat upgrade ;) A big cross footbike under 8kg is not just a dream.
geometry
weight
full carbon fork included
Ženíšek 29x27,5
Musher special from Sumava with more than 20 years of frame development history. Thanks to this, it behaves as it should and doesn't let its rider down in twisty passages or in hard descents or in a scramble.
tread surface in mud and snow
durability
integrated front fender
rear 27,5" wheel
Yedoo Alloy Trexx disc
Brother of the popular Trexx on disc brakes and wider tires.